We've been meaning to drop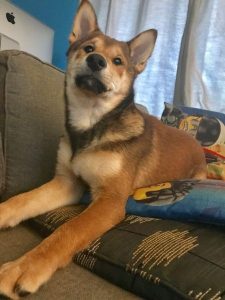 We've been meaning to drop you a line and let you know how wonderful Yoshiro (Yoshi) is doing. The drive home was long and included a stop by my parent's house but he did wonderful. Once we were home, he and the cat only took a couple of days to become friends. He also took right to his kennel and our daily routine.
He loves playing in the backyard with our neighbors' dogs and he absolutely loves going to the dog park. He sleeps in the bed with us every night and has claimed a spot on the couch. He is very affectionate, loves to cuddle and always wants to be around us.
He was 16lbs at four months but he had a growth spurt in the past week. He is still skittish around new people and loud noises, but he is slowly getting over that. He has learned to sit and we're working on other basic commands until our training class starts.
Also, we were very please to meet both of you and tour your facilities. All of your dogs were so friendly and loving. As this was our first time with a pure breed dog we had some reservations, but you were both very kind and welcoming. We wish you, your family and all of your animals the best.
– Derek and Will