Tiki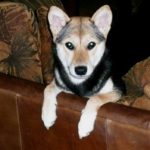 I thought I would give you a little bit of an update on Tiki…She turned 9 months on Sat. Kennel Cough went away for good at 6 months… it was a recurring problem until then -She loves her fav private place – under the  bed..We took her off puppy food at 7 months – and her system has been great,with Science Diet Lamb and Rice ( small bits)She weighs 18.5 pounds. She was spayed at 7 monthsShe tears the heck out of all her toys  quickly, loves to dig!!! – likes to pull at human hands with her teeth – BUT never breaks the skin…or tries to bite – just playing.. ( still working on this). Can fetch , sit , semi stay… jumps and leaps like a cat – wow what a leaper… yet her balance is amazing…Everyone who sees her is amazed at her markings – and her breed – people are so unfamiliar with her type. She travels great – rides great – is very skittish around strangers – but more relaxed once she checks them out.
Heard her bark ( yip actually) only about a dozen times in her 9 months…Playing with her toys by my office chair right now…Housebroken very easily – 4 mistakes in the first 4 months – none thereafter.. lives with a cat – they play and go their own way. She is a very affectionate dog – very loving – loves to play – rest and cuddle – could not ask for a better canine family member -] All in all – one of the best pet choices I have ever made – she is beautiful and a forever part of this family….whew I am done!!! I sent a few pix….. bob and kat
Mimi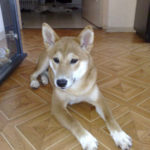 Dear Theresa,
I hope you are doing good , I just wanted to share with you some pictures of Mimi, I am so happy with her, she is the perfect puppy, she got calmer now, she adapts well to France, I think we can say that she is the first french/ english speaking Shiba, Everybody is amazed by her foxy look, and how cuddly she is for a Shiba, When I brough her to France she had been awesome on the plane, and got potty train in less than a month, and before her 5 months I got her spayed which has improved her capability to calm down !!!
As far as her little tail goes, she got curly after a few months, and she is the most beautiful shiba puppy!!!
Thanks so much for your support and help, I hope you will enjoy the pictures of my baby,
Have a nice evening, Vanessa and Mimi !!!
Saki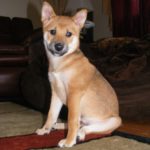 Hi Theresa!
I just wanted to send some photos your way of little Saki (Toby) who is almost 5 months now! He's gotten to be such a handsome young man, and everywhere he goes, he recieves so much love from everyone! He loves going to the dog park and wrestling with all the big dogs, and loves going to the pet store, because he knows there are strangers there willing to let him lick their face. He is a pretty quiet fellow, he doesn't bark much at all, and loves to run wild in the house. As soon as he is let out of his kennel in the morning, ZOOM! He takes off to run circles in the house and run down the hall. It's so funny! We took him to the vet to recieve his last Distemper and his first Rabies, and he was so good! He's also 10 lbs now! Both of my other dogs are full grown and they only weigh 12 lbs! Saki will be the big dog on campus it looks like!
Hope all is well, and I will send updates on Mr. Saki as he grows! Thanks again for supplying us with such a wonderful little dog!
Melonie and Jon Carroll
Thank You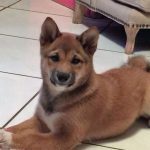 Theresa and Grover
I want to thank you so much for the most beautiful puppy and all your kindness. Yoshi is such a joy, and a smart girl. She is potty trained, it took her a little time to get use to a leash. But I live on 5 acres and I have horses and I do not want her to run loose. I have her going to the Pets Mart puppy training course. And the first day when really well, we go again on Sunday. I am lucky there is only one other person with their puppy in the class so it is like having my own personal trainer. So I highly recommend your potential buyers taking their puppy to this class and Sunday is the best day. We love her so much, and my grandchildren want to stay at grandmas and play with the puppy. I will call you and keep in touch. Thank you again for the love you have added to my family. Cheryl
Shady baby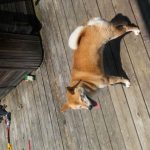 My husband bought shady in January in 2012. He is now 5 years old… He is about 30lbs now.. He is a lazy dog loves to sleep…. He is our best friend…. He does bark alot tho… Most of the black on him is not there anymore. His tail still has black on his tail and a deep curl…
He walks good on a lesh and loves the snow and sun bathing in the summer.
Thank you for the best dog ever…
Perfect Playmates t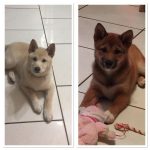 Theresa
Just wanted to let you know how great Yoshi and Winston are doing they are running all over the house playing and having lots of fun. They like bitting each other. I just love to watch them roll all over the floor and jumping on the furniture they eat right beside each other and don't fight at all. I just can't believe difference in the size of the two of them when they are only a couple days different in their birth date . I just want to thank you so much for giving me so much joy with these pups . I will keep sending you pictures of them as they grow . Love and Kisses Cheryl
Great Fog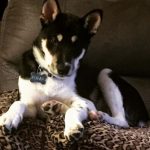 Kuma has been such a great addition to the family. He is Very smart, loving, and loves to play with the big dogs. He came to us from great breeders and the process with you with very nice and easy going.
We've been meaning to drop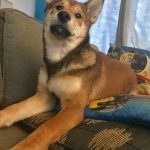 We've been meaning to drop you a line and let you know how wonderful Yoshiro (Yoshi) is doing. The drive home was long and included a stop by my parent's house but he did wonderful. Once we were home, he and the cat only took a couple of days to become friends. He also took right to his kennel and our daily routine.
He loves playing in the backyard with our neighbors' dogs and he absolutely loves going to the dog park. He sleeps in the bed with us every night and has claimed a spot on the couch. He is very affectionate, loves to cuddle and always wants to be around us.
He was 16lbs at four months but he had a growth spurt in the past week. He is still skittish around new people and loud noises, but he is slowly getting over that. He has learned to sit and we're working on other basic commands until our training class starts.
Also, we were very please to meet both of you and tour your facilities. All of your dogs were so friendly and loving. As this was our first time with a pure breed dog we had some reservations, but you were both very kind and welcoming. We wish you, your family and all of your animals the best.
– Derek and Will
Baby girl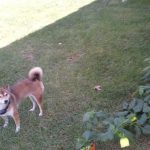 We could not have asks for a better dog. Too many good qualities too mention. Keep up the good work on raising good quality dogs.
King of the jungle!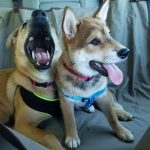 I hope all is well as it is for us. Mufasa quickly got along with our other puppy. He keeps growing and growing. They chase each other and love to bite their toys. He is becoming an adult puppy now and weighs about 25lbs. He loves to eat! He loves to watch us and nibbles on us when he wants to know we are okay. Thank you for helping us complete our little family. ❤
Very Happy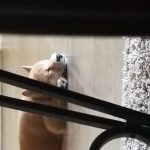 From the time we picked up Kobe Natalie she has been amazing!!! Potty training was a breeze. She lets you know when she goes out. Her big brother Aang our other Shiba finally likes her. He wasn't to thrilled with someone coming in talking attention from him. We were stalking mas little paws for a while to get a great puppy and we did. Thank you Ms. Theresa and Mr. Grover you guys rock!!!
Yu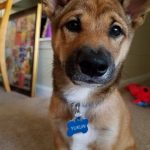 Hi Theresa!
I wanted to let you know that Yu (Delbert) is doing great! Also my mother's little Shin (Donny) is doing amazing too. We wanted to let you know, they are the cutest brother duo. The names Shin and Yu put together in Japanese means Best-Friend so it's honestly perfect. They are growing up perfectly together. They both have two very different personalities, but I love my Yu and Shin very much!
Thank you for breeding such amazing Shibas!